Need a gift idea for a woman ? Clap Escape gives you one !
We are lucky to live in a city full of  activities of all kinds, outside or inside, there is something for everyone. A small trip for the taste buds first, gastronomic city "par excellence", tastings of all kinds, with Lyon specialities galore accompanied by red wines from the region will delight the most gourmet of you. Or you are rather unusual stroll of the city by original means of transport, a great solution to discover the rich architectural heritage of the city of Gones. By passing of course by the sports or playful activities that do not lack spicy to enhance your memories. As you can see, a large selection of gift ideas in Lyon awaits you.
A woman made in Lyon who will suprise more than one !
We always have a great opportunity to please the women who are part of our daily entourage. What occasions? For all those who punctuate our life, whether it is for a birthday, a retirement, a Christmas, a declaration of love for Valentine's Day or a birthday. To mark the occasion this year and hit the nail on the head, you want to give the perfect  gift to your wife, mother, sister or grandmother. We send to the closet the basic gifts that we have already received: jewellery, watches, chocolates,  Instead, we propose a unique gift that will be dedicated to him.
Offer an extraordinary adventure with our escape rooms in Lyon ! 
The Clap Escape gift : an entertainement to offer for every occasion 
                 It is sometimes very complicated to offer a gift to a woman. There is no shortage of ideas, but it is easy to be wrong and fall into the trap of gifts without true identity or meaning. With the good gift that Clap Escape offers, you want to make a happy one. Come and live a unique experience with the woman sharing your life. A colorful adventure awaits you.This gift is the ideal way to spend a great moment of sharing and complicity with the woman of your life. Here we reveal the occasions for which the original escape room activity lends itself.
The escape room adventure : a woman's gift in Lyon that is part of the most original to offer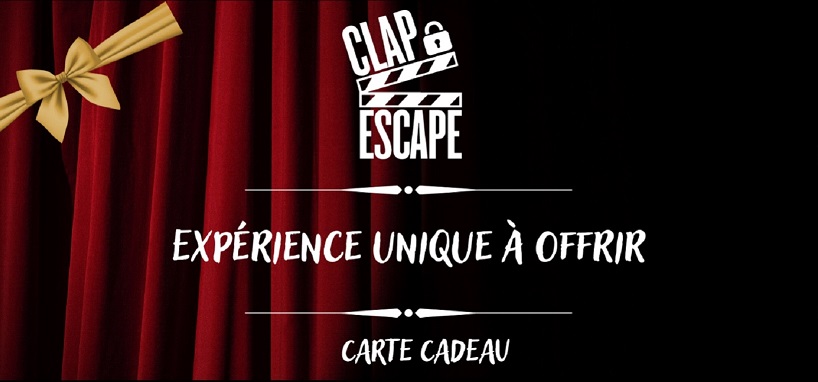 This year you are going to do something by offering to your mother, sister, grandmother or colleague the unusual activity of the moment which is the escape room. You prefer to enjoy the spirits for this anniversary or even this retirement giving a moment of sharing, fun and laughter to these women who are part of our daily life. Youwill embark on a unique adventure for a duration of 60 minutes with bespoke companionship if you wish. A playful and fun entertainment, which mixes thinking,manipulation and research where you will have to solve a series of puzzles to be able to get out of the room where you will have been locked. Nothing simpler to offer this moment, the gift vouchers are the solution. No need to schedule a date with all the participants at the time of purchase, nor to choose a particular theme immediately, you will be sure not to be mistaken, it will be to the person to whom you have given the gift who will choose all of this information when booking. The most of this activity to offer, it can also be adapted for all the special occasions that you would like to celebrate, a glimpse.
The escape room folds in four to make your special occasion unique
 In addition to gifts for traditional occasions such as birthdays, retirement or Christmas, and for which the getaway activity lends itself perfectly, There are special occasions when this is the key to making an announcement in an original way. A surprise for your half for the  occasion of Valentine's Day, for a wedding announcement or a wedding gift, the escape room can adapt to this special occasion to make you live a unique moment. The game  master will be able to customize your game, adapt the final puzzles in relation to your request to make this magical and unforgettable moment.
Don't wait any longer to offer your voucher game session 
The escape room : the activity of the moment to offer a gift
As you may have guessed, the variety of leisure activities that includes the escape game activity becomes uninvolvable to offer an unusual gift to Lyon. It is a flexible activity for the greatest pleasure of all and it adapts to all your events like :
-   Bachelor parties
-  Bachelorette parties
-  Birthdays
-  Or simply as a gift voucher